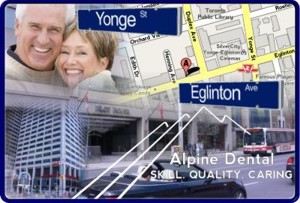 Alpine Dental
90 Eglinton Avenue West, #111
Toronto
M4R 2E4
Daily: 10:00-17:00
Alpine Dental at Yonge and Eglinton is a Family and Cosmetic Dentistry located at Yonge and Eglinton in Toronto. You can click to Alpine Dental mobile Website designed for BlackBerry, iPhone and other Web phone.
Request your Appointment with Alpine Dental Online 24/7, using a Web form.
New patients with Alpine Dental can submit Health Questionnaire Online using any Web phones or PC.