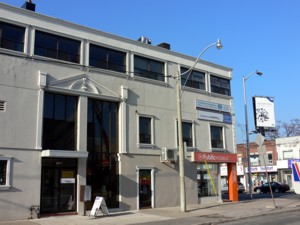 Metropolitan English College in Toronto - Toronto ESL School
2017 Danforth Avenue, 3rd Floor
Toronto, Ontario M4C 1J7
An ESL lecture at Metropolitan College in Toronto.
ESL Stands for English as Second Language! Learn English as Second Language in Toronto! Toronto ESL Schools offer best environment to learn English!
There are many ESL Schools in Toronto competing for business of foreigner students, arriving in Toronto on student visas and spending time to learn English.
Toronto provides the best environment for foreigner students. It is a very safe, still affordable and multicultural city. Every student arriving to Toronto can feel here just as at home and blend easily with his own culture and enjoy food from his own country.
You have an opportunity to stay with your ethnic community, or make an every attempt to blend with a new culture and adopt habits of citizens born in Canada. That is a dilemma that Toronto ESL students can think about, and there is no simple answer. If you are a foreigner student arriving in Toronto, it is a choice you have to make. Our school can help you in many regards.
We are sure that there are many schools providing first class curriculums to the foreigner students, willing to choose Toronto to learn English.
One ESL school in Toronto on Danforth at Main Street generates high satisfaction rating from past students. It is the Metropolitan Colege in Toronto, conveniently located on Main Street Subway station. We invite prospective students to click to their Web site and contact the school for more information.
A student of English in Toronto has written these comments.