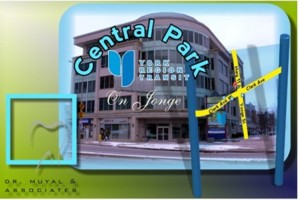 Dr. Muyal & Associates Dental Care in Thornhill
7368 Yonge Street #209
Thornhill
Ontario L4J 8H9
Daily: 10:00-17:00
Dr. Muyal & Associates Dental is a Family and Cosmetic Dentistry located at Yonge and Clark in Thornhill. You can click to www.ThornhillDental.mobi, a mobile Website designed for BlackBerry, iPhone and other Web phone.
Request your Appointment with Dr. Jaime Muyal Dental Online 24/7, using a eForm.
New patients with Dr. Muyal Dentist can submit their Health Questionnaire Online using any Web phones or PC.