New LRV For Toronto
Mock-up of new LRV for Toronto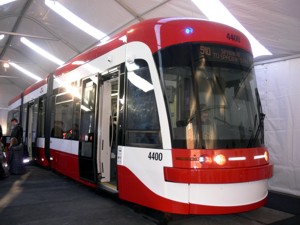 Mock-up for new LRV for Toronto was on display to the public, weekend of November 12, until November 15, 2011. When new LRV start arriving to Toronto, at the rate of 24 per year, they will be replacing current streetcars.
Easy accessible
100% low floor vehicle
More seats
Some wider seats
Boarding from all 4 doorways
Wide 2nd and 3rd doorways
Modern rail vehicle for Toronto streets
Comfortable unlike old streetcars
Large windows
Air conditioned and temperature controlled
Bicycle accomodated
To be tested in Toronto during 2012
Toronto Transit Commission has purchased 204 of these modern streetcars to replace our existing streetcar fleet. New low floor streetcars will hopefully start arriving in 2013.
Torontonians had their first chance to look at future vehicles at public display dates November 12, 13, 14 and 15 at TTC's Hillcrest facility at 1138 Bathurst Street, north of Dupont.
Back to more articles.... "Click here" link »
---